Cynthia KR Banks — Easter 7—Year C; Acts 16:16-34; Psalm 97; Revelation 22:12-14, 16-17, 21-22; John 17:20-26
Prisons, jails, innermost cells. Earthquakes that shake the foundations. "That they may become completely one." Protests. Burials. Lots of images swirling around this week.
Let's start with the story from Acts.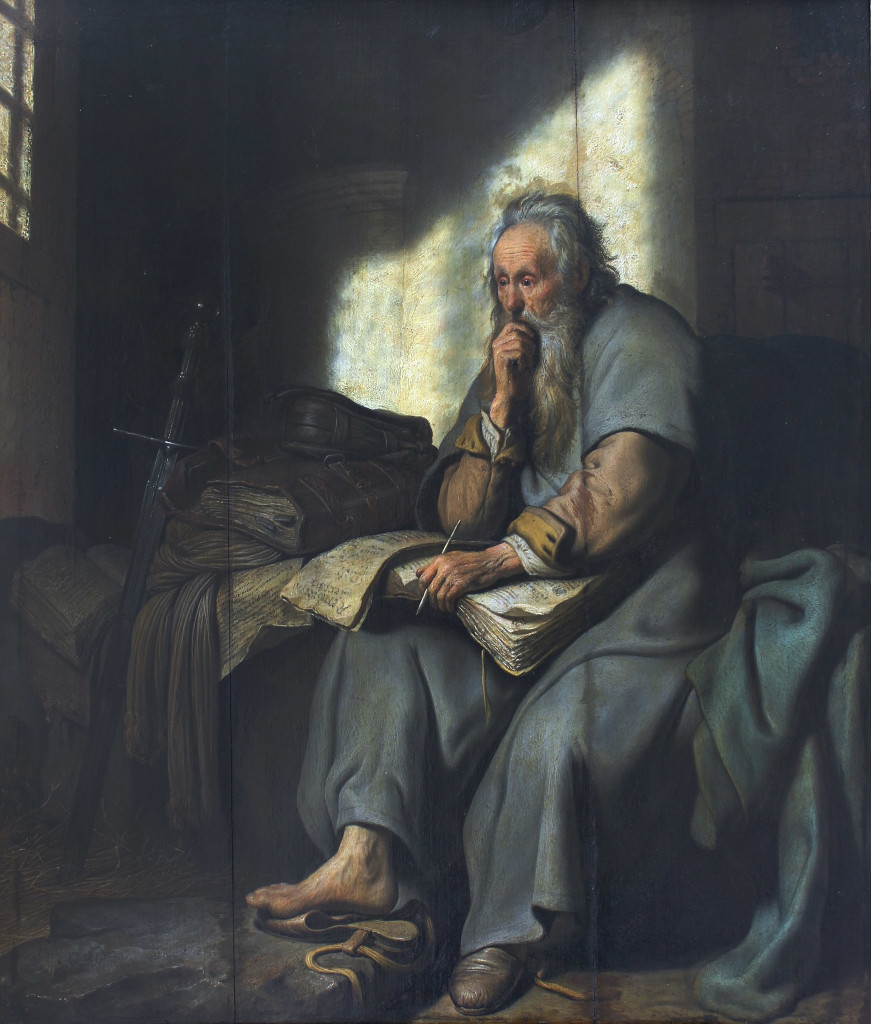 Paul and Silas are still wandering around Philippi in Macedonia, and as they were going to the place of prayer, they met a slave girl who had a spirit of divination. Now, one gift of divination is to be able to see into the future, but another gift is the gift of insight, you know, that scary kind of spot-on intuition. Well, this girl made her owners a whole lot of money by fortune-telling. So, while she followed Paul and Silas and the others, she would cry out, "These men are slaves of the Most High God, who proclaim to you a way of salvation." She did this over and over and over for many days. So, Paul moves from being bemused to irritated to annoyed to very much annoyed. Eventually, he wheeled around and said to the spirit, "I order you in the name of Jesus Christ to come out of her." And, lo and behold, it did!
So, if you are slave's owner, how are you feeling about this? Not good. Their money-making well has just dried up, their source of income—gone. So they seize Paul and Silas and drag them into the marketplace before the authorities, the magistrates. And the owners told those magistrates, "These men are disturbing our city; they are Jews and are advocating customs that are not lawful for us as Romans to adopt or observe." (They left out that little part about them being Roman citizens and, therefore, entitled to certain rights.) Well, crowd mentality took over, and the crowd piled on joining in the attacks. The magistrates had Paul and Silas stripped of their clothing and ordered them to be beaten with rods. After that, the magistrates threw them into prison and ordered the jailer to keep them securely. The jailer, he was a J's J, a total 6 on the enneagram; he was a rule-follower of the highest order, so he took Paul and Silas to the innermost cell and fastened their feet in stocks.
Well, about midnight, Paul and Silas were praying and singing hymns to God, and the other prisoners were listening to them. Suddenly, there was an earthquake so violent that the foundations of the prison itself were shaken; and immediately all the doors were opened and everyone's chains were unfastened. Now, if you are a prisoner and the doors have been thrown open and your chains are unlocked, what are you going to do? [Run for it!] When the jailer woke up and saw the prison doors wide open, he thought that exact same thing, and he drew his sword and was about to kill himself, since he figured that all the prisoners had escaped.
But Paul shouted in a loud voice, "Stop! Don't do it! Don't hurt yourself, for we are all here!" The jailer ran in and fell down before Paul and Silas. Then he brought them outside and said, "Sirs, what must I do to be saved, healed, made whole?" The Message translation says, "really live," "what must I do to really live?" They answered, "Believe on the Lord Jesus, and you will be saved, you and your household," and they told the story of Jesus and his way to him and to all who were in his home.
And that jailer took Paul and Silas and washed their wounds. He and his whole family were baptized right then and there, and he brought Paul and Silas up into his house and spread a feast before them, and that jailer and his household celebrated, in the immortal words of Prince, "like it was 1999." Okay, for those of you who don't remember Prince, or his music, that means they celebrated like there was no tomorrow; they had a party to remember."
+++
There is so much in this story! Very real prisons, locked away places, innermost cells. What prisons do we see around us? Tangible and external ones and internal ones? How are we locked away, or who have we locked away? Are we the imprisoned ones? Are we the magistrates locking others away with our judgments? Are we the jailer guarding the door making sure no one gets out of line, ensuring that no one escapes the box we have put them in? What chains are fastened around our feet that keep us from experiencing wholeness, healing, that keep us from "really living", as Eugene Peterson says in The Message?
And can we see that no locked away place is beyond the reach of the God? Can we trust that God can penetrate even our thickest walls and most impenetrable prisons? Sometimes, it will be a violent earthquake that shakes our foundations and sets us free, something that flings open the doors and throws off our shackles through no exercise of our will—that's the very definition of grace. And here's the amazing thing, when that happens, you don't have to run away; no, you actually receive the grace to stand still, to stay put, because whatever has kept you locked away no longer holds any power over you. Wow! That's amazing!
And when something like that happens to you, the ripple effect is astounding. That jailer was blown away that Paul and Silas were free and yet did not run away. Paul and Silas had a deeper kind of freedom—that jailer didn't understand it, but he wanted it for his life and for the lives of everyone whom he loved. Prison no longer made sense to that jailer—all he could do was bind up wounds and bring them into his home and break bread and celebrate—no longer jailer and prisoner, but now, only brothers. He and his family belonged to Paul and Silas, and they to them. "That they may become completely one"—that was Jesus' prayer the night before he died—this is what it looks like on the ground, in the flesh. It is radical, radical stuff.
How radical? As radical as Martha Mullen, a 48 year old woman in Virginia who was on her way to Starbucks this week when she heard on NPR that no Massachusetts cemetery would bury Tamerlan Tsarnaev's body. People protested the funeral home in Massachusetts that was holding his body. Comments made like, "He shouldn't have rest. I hope his soul is in eternal damnation." "… I think …they should have cremated him and put him in the Boston municipal dump with the rest of the trash."
What is becoming of us? What are we becoming?
Yes, what this man did is horrific. Somewhere along the way, Tamerlan forgot that we are one, that we always belong to one another. Somewhere along the way, the flow of love in which we all live and move and have our being got blocked. Who knows how it got blocked, or why it got blocked, or what part his own will played in that blocking—I cannot presume to know such things, but the point is, the flow of love got blocked, and when that happens, we human beings are capable of horrific, evil acts, like setting off bombs at a marathon of innocents. However, Tamerlan Tsarnaev is still a child of God. He is still a human being in whom God has breathed the breath of life, and as such, he has an inherent dignity.
I am so struck by the contrast between the protest at that funeral home in Massachusetts and the calls for this man to be eternally damned, and the witness of the Amish in 2006 at the funeral of Charles Roberts, the man who had shot ten of their children, five of whom died. The day of that shooting, the grandfather of one of those little girls said, "We must not think evil of this man." Amish neighbors comforted Charles' family that same afternoon and extended forgiveness to them. The Amish outnumbered the non-Amish when they attended Charles Roberts' funeral. Somewhere, the flow of love had gotten blocked in Charles Roberts, maybe it was connected to the premature death of his baby girl nine years before. But the Amish live in that flow of love and could gratuitously extend it, even to the murderer of their children.
Everybody deserves to be buried. Every body, as the sacred vessel of God's breath, deserves to be treated reverently and with honor, even when that sacred vessel is broken.
What is becoming of us that we can't see that???
Martha Mullen wondered the same thing. When she heard that story on the news, she first thought, "Jesus says love your enemies not hate them after they're dead." Her second thought went like this, "We can bury Adam Lanza, or the guy who shot up [Virginia] Tech, and this guy for some reason is different. And the only difference that I can tell is that people think that he's a terrorist or he's a foreigner or he's Muslim." Then she thought, "Maybe I could do something." And she did. She emailed faith leaders throughout Richmond, Virginia, and an interfaith coalition came together—Jewish, Hindu, Muslim, and Christian—and Tamerlan has now been laid to rest in a small Islamic cemetery in Virginia.
To know our oneness, even with a person who has committed horrific evil, that is faith pressed down to the depths, faith pressed down to the outer limit of what our small human minds can fathom. Jesus himself was killed outside the city limits—he was considered cursed because he hung on a tree, so the religious law itself proclaimed. And our tradition proclaims that when Jesus descends into hell, he simply holds all the brokenness and sin that lies there, holds it in Love's embrace until even that brokenness is reconnected to the whole.
This is grown-up faith.
This is the faith that doesn't run from prison but stands there until the one who put you there is also reconnected to the whole. This is the faith that can't hold another in chains because that other is brother, that other is sister. This is the faith that says, "Tamerlan deserves to be buried, and maybe I can do something about that." I heard that same NPR story, and I, too, was deeply troubled. It was one of those stories that got under my skin. I got as far as asking, "What are we becoming?" but I didn't get to the "maybe I can do something." Martha Mullen is no famous person; she was on her way to Starbucks—I frequently make that trip myself—but an earthquake happened in her soul, and she was compelled to act. It was a little something that changed everything. The ripples from her action will be huge. Maybe next time, I'll take the next step. Maybe next time, I will realize that I can do something, and that little something will be everything.
We never know when the earthquakes will come, but come they will. And when they come, doors open and chains fall off, and we can see with a clarity that we didn't have before. The good news, and hard news, of Jesus is that we are one. Are we going to step into the flow of love that binds us to one another, or are we going to block it? What are we becoming? The answer to that will be revealed in the choices we make each and every day, in the midst of still waters, in the midst of small tremors, in the midst of earthquakes. We can choose to flee the prison, or we can choose to stay and engage the jailer and trust that his salvation and ours are inextricably bound together.
I may not know much, but I do know this, I want the freedom of the Amish to forgive, I want the courage of Martha Mullen to act, I want to know the love of Jesus that can reach out even to the enemy, I want to know that Love that can descend into hell and sit there until even that brokenness is reconnected to the whole. I want these things because my heart senses and my soul knows that this is what salvation looks like; this is what it means to really live.
May the earthquakes come, may the doors fly open, may the chains fall off, so that we may know that we are completely one. Then, let the celebration commence. You can do no other when you are that alive. Amen.
The Rev. Cynthia K. R. Banks
St. Luke's Episcopal Church, Boone, NC
May 12, 2013